Fruit flavours
Perhaps the largest group of flavours and the product group most associated with flavours. Ask the average person for some examples of flavours and the first answer is likely to be "vanilla flavour", followed by "lemon flavour", "orange flavour" or some other fruit. This is probably because flavours are quickly associated with sweets, such as candy or biscuits. Many fruit flavours are used in these products. Sometimes effective fruit extracts or their derivatives are used for this purpose, but in many cases a flavouring will be used here.
The legal definition of flavouring describes a number of groups of flavourings. Thus, a fruit extract can also be considered a flavouring from the group "natural flavourings".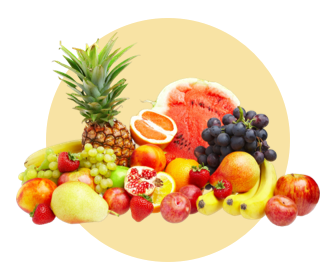 Some of our offerings.
Several of these products can be offered in liquid and (spray-dried) powder form. Some of these solutions are available "naturally".
strawberry
apricot
banana
blueberry
cassis
lemon
coconut
grapes
raspberry
(green) apple
lime
passion fruit
lemongrass
orange
Can't find what you are looking for ? Be sure to contact us. Our range is much wider than these examples. And if it does not yet exist in our range, we will be happy to develop customised solutions together with you.
Discover our other products