Seasoning
A seasoning is a flavourful ingredient that combines the strengths of a sophisticated spice bouquet with the power of an aroma. Developers very often think in terms of one solution or the other. And there is nothing wrong with that. But sometimes you get the best results by boosting the flavour profile of the herbs and spices with the help of its flavour counterpart so that you have to dose less.
Sometimes you get surprising effects by combining herbs and spices with flavourful ingredients from a completely different angle. Or by backing up a meat flavour with the right herbs and spices to achieve a full flavour profile. Both applications describe the same problem, approached from a different angle. You can start from a mix of spices that you want to complement or you can start from a basic flavour that you want to refine. Both approaches result in a seasoning.
A seasoning is often associated with a flavouring solution applied to a food. A paprika seasoning is sprinkled on crisps. A spicy seasoning can be found on cocktail nuts. But you can equally find a bacon seasoning in a vegan burger or apply a garlic seasoning to a Scandinavian vegetable dish.
Pure flavourings or spice mixes are usually used by producers who make compositions further along in their process. Seasonings are mostly used by producers who want to be relieved of the flavour profile of their product.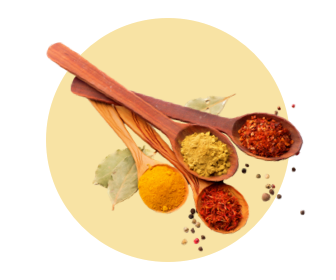 Discover our other products