Meat Flavours
Meat flavourings have many applications. They are used in the meat industry to add flavour in charcuterie, they are used in the snack industry to market bacon-flavoured crisps. They are used in prepared meals to give the meat sauce a full flavour.
Recently, more and more meat flavourings are going to the vegan and vegetarian market or perhaps more specifically to the flexitarian market. More and more vegan foods are being offered where a meat flavour is still present.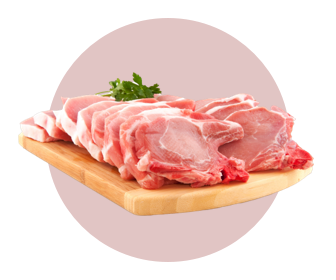 Some of our offerings.
Several of these products can be offered in liquid and (spray-dried) powder form. There are vegetarian and vegan variants. Some of these solutions are available "naturally".
Bacon
Roast meat
Ham
Chicken
Liver
Beef
Salami
Turkey
Pork
Smoke flavours
Our range is much wider than these examples. And if it does not yet exist in our range, we will be happy to develop customised solutions together with you.
Discover our other products