Beverage flavourings
Beverage flavourings can be interpreted in different ways. You can think of it as flavoured drinks and you can think of this as a set of flavourings that can be used in drinks.
Flavouring drinks is a world unto itself. There is not one particular set of flavourings that are used for this purpose. Whereas you are more likely to find a fruit flavour in a soft drink, a trendy gin is more likely to reach for herbal flavours and a moktail will quickly combine both. The best solution for your application should therefore be sought in these categories.
Seen from the first approach, the application does not have to be a drink at all. There are plenty of food applications in which a flavour linked to some beverage is used. A biscuit incorporating a coffee flavour, stew sauce to which beer is added, a candy with a cola flavour. These are just a few possible applications in which drink-flavoured flavourings are used. A special category in these flavourings are liqueur flavourings.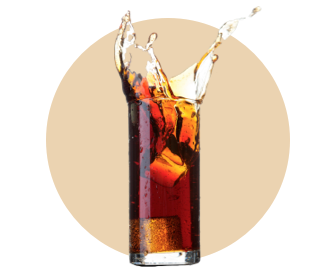 Some of our offerings.
Several of these products can be offered in liquid and (spray-dried) powder form. Some of these solutions are available "naturally".
Coffee
Wine
Beer
Choco drink
Liqueur
Can't find what you are looking for ? Be sure to contact us. Our range is much wider than these examples. And if it does not yet exist in our range, we will be happy to develop customised solutions together with you.
Discover our other products